What Are Permissions?
Permissions are what allow certain Users to perform certain actions in Master Tour. For instance, only giving Mobile Access permissions to a User will only allow them to view tour info on the Master Tour Mobile app and my.eventric.com, and will not allow them to add info on the desktop app, even if the user has a Professional account subscription.
Permissions Levels In Master Tour
There are 6 levels of permissions in Master Tour. Some of these permissions give Users additional abilities if they are also Professional users. For instance, if you give Manager level permissions to a Mobile (free) User, they are able to add Guest Listings on the mobile app and manage the entire Guest List, but are not able to use the desktop app or add any other info in your Organization. However, if they have a Professional account subscription and you give them Manager permissions, they are able to add/edit most of your Organization and Tour info in the desktop application, in addition to Guest Lists.
Take a look at the chart below for a reference of what features you can give Users access to through which Permissions and Account Subscription levels.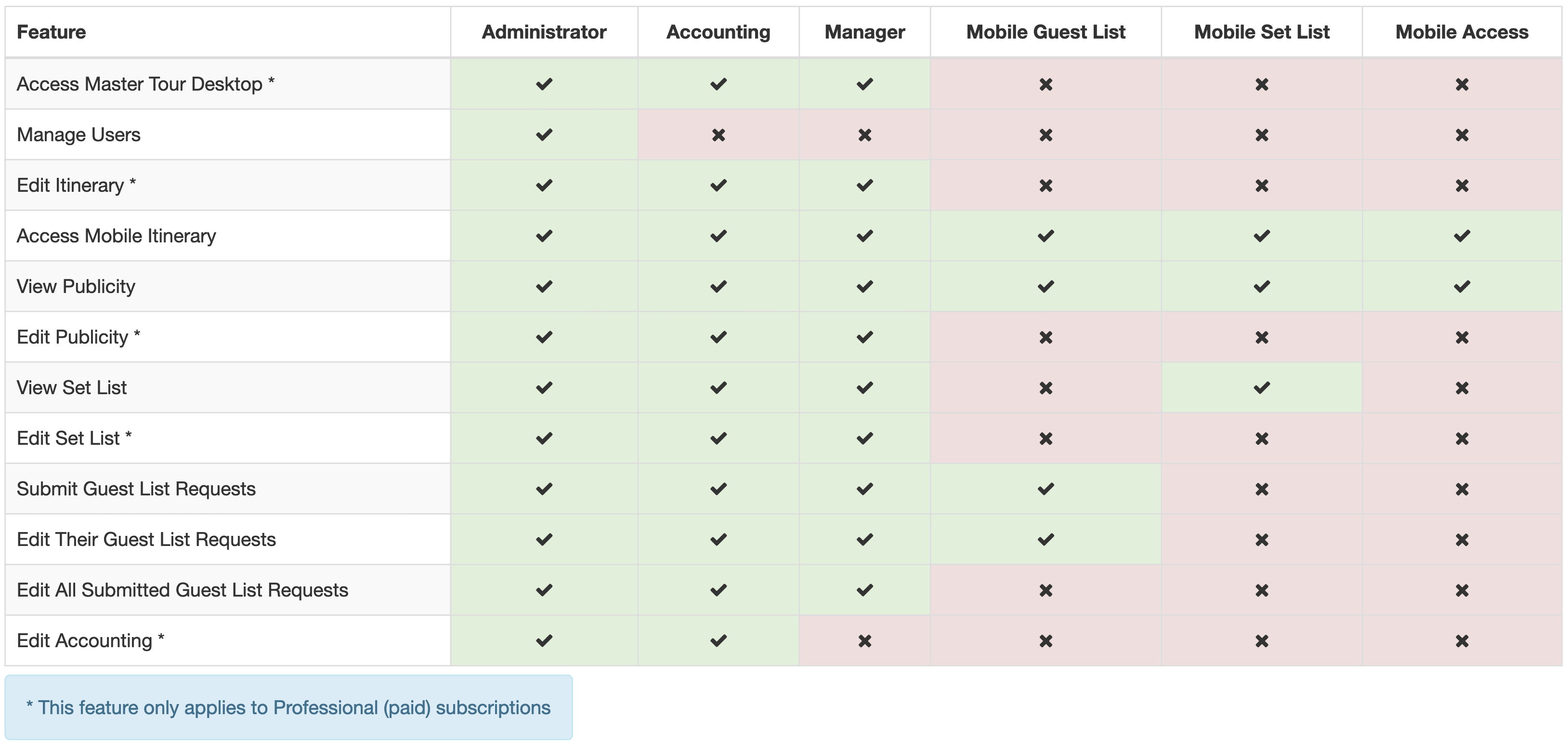 As shown above, a general rule is that a user with at Mobile (free) account subscription is not able to add or edit any info other than Guest Listings, and can only add/edit Guest Listings with the proper permissions.
It's also worth noting that if you are a Professional user who has been given Mobile Access permissions to an Organization, you will be able to see that Organization's tour info on the Master Tour Mobile app and on the my.eventric.com Web Portal, but will not be able to see that Organization in your desktop application or edit any of its info.
Giving A User Permission To Your Organization
To give someone permissions to your Organization, you'll just need to add them as a User. Check out our article on Users for more info on adding and removing Users in your Organization - you will need Administrator permissions in your Organization in order to add, remove, or change permissions to any Users in your Organization.