To set up a Tour, you'll need a Professional subscription and have the Master Tour Desktop App installed. If you've never used Master Tour before, click here to learn how to sign up for a free trial. If you've used Master Tour before and do not have a Professional subscription, click here to learn how to upgrade or reactivate your Professional account. If you need to install Master Tour, click here for instructions.
This article covers how to:
Add an Organization
After you log in, the first thing that you will likely want to do is to set up a new Tour. Before you add a Tour, however, you'll need a place to put it. In Master Tour, every Tour record belongs to an Organization. 
We recommend that you create a unique Organization for each of the touring groups you want to keep separate. Since Users Sync at the Organization level, all Users added to an Organization can see all Tours marked as Visible within that Organization. 
If you aren't added to any Organizations with Manager or greater permissions, then you'll see the page below, asking you to create an Organization.
If you're already added to an Organization, but want to create a new one, you can click on your existing Organization name in the top left corner, then click on the Add Organization button, and you'll see the page below.
If you are already added to an Organization and want to add a Tour to that existing Organization, make sure you have that Organization selected in the top left corner of Master Tour, then click on the top left corner and click the Add Tour button. Then, click here or scroll down further in this article to see how to create your new Tour.
You can get started by naming your Organization and choosing its type; then you can click NEXT to continue.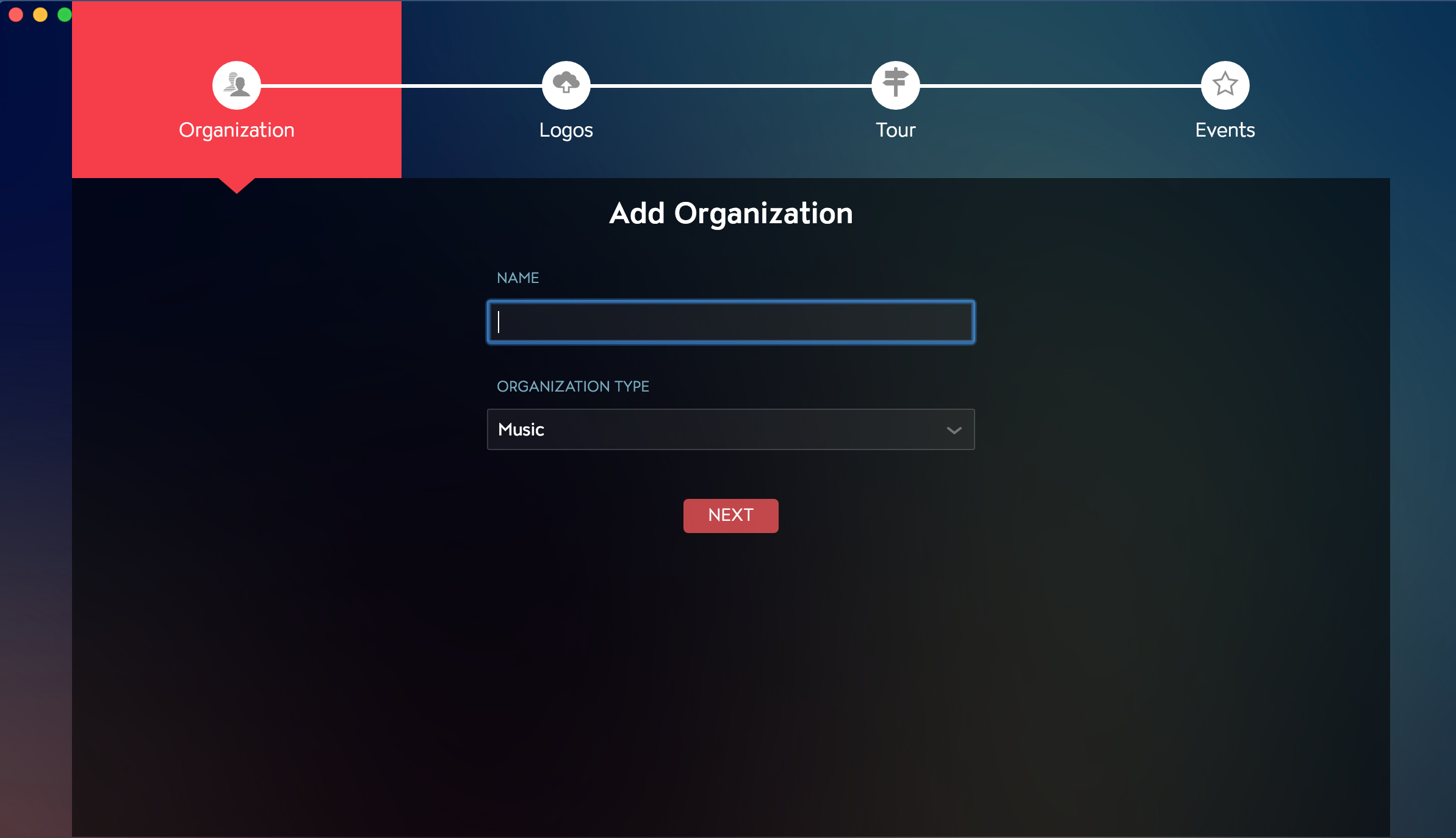 Add Logos
Next, you can upload your Logos. You can also skip this step and upload your logos later. There are three different kinds of Logos available - they can be used in print reports, and also help differentiate your Organizations visually in the desktop app. Either drag and drop an image onto a box with a camera icon or click the Select button to select an image with your computer's file explorer. JPGs and PNGs are recommended, but most image formats and sizes can be used.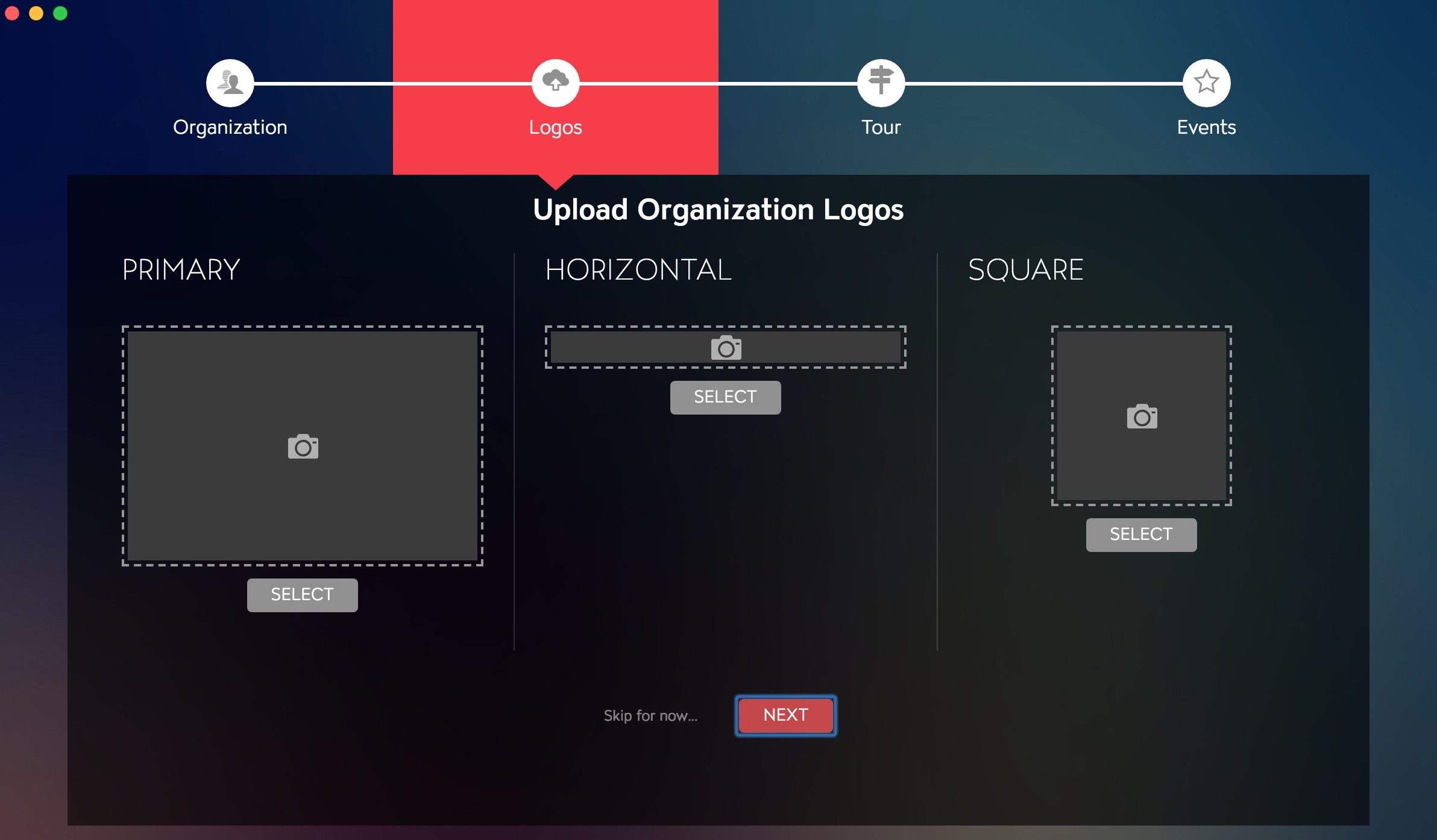 When you upload a logo, you will be asked to crop an image for the selected Logo format. You can drag the corner boxes to resize your image, or click and drag on the center of the image to reposition your image. Once complete, click on the CROP button.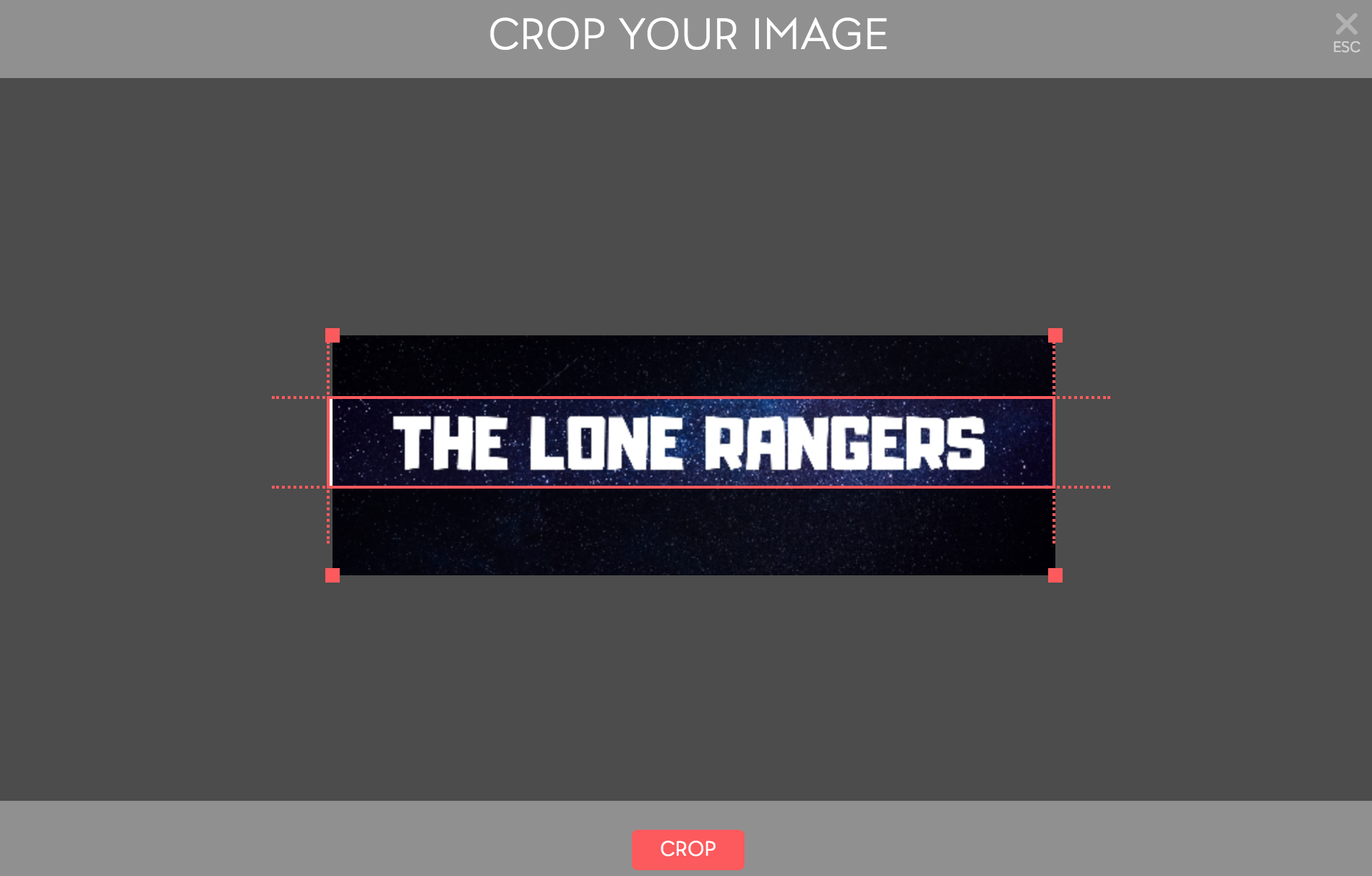 Click the NEXT button to complete the Logo set up.
Add Tour Name and Dates
Next, create your Tour Name and select a range of Tour Dates. Keep in mind that you can always add more Tour Dates to your Tour later and don't have to add all the dates to a tour at once. You can also change your Tour Name at any time. Click NEXT to proceed.
The next step is to select the Day Type for each date. There are three primary Day Types that you can choose from, Show Day, Day Off, and Travel Day.
Show Day
For Show Days, you can start typing in the Venue field to search our Venue database for records, and pull in all the info we have for each Venue. Just start typing your Venue's Name, then click on your Venue in the results list to apply it to your Tour Date. If your Venue doesn't exist in our database, Master Tour will look up your Venue's Name on Google, and give you the option of using the Name, Address, Phone Number and URL that Google has on record. Master Tour records will appear with a Master Tour logo on the right, and Google records will appear with a Google logo on the right. If your Venue isn't in the Master Tour database and isn't on Google, then you can manually type in the Name, then tab to the Address field or click out of the search bar to manually enter in other basic location info for your Venue.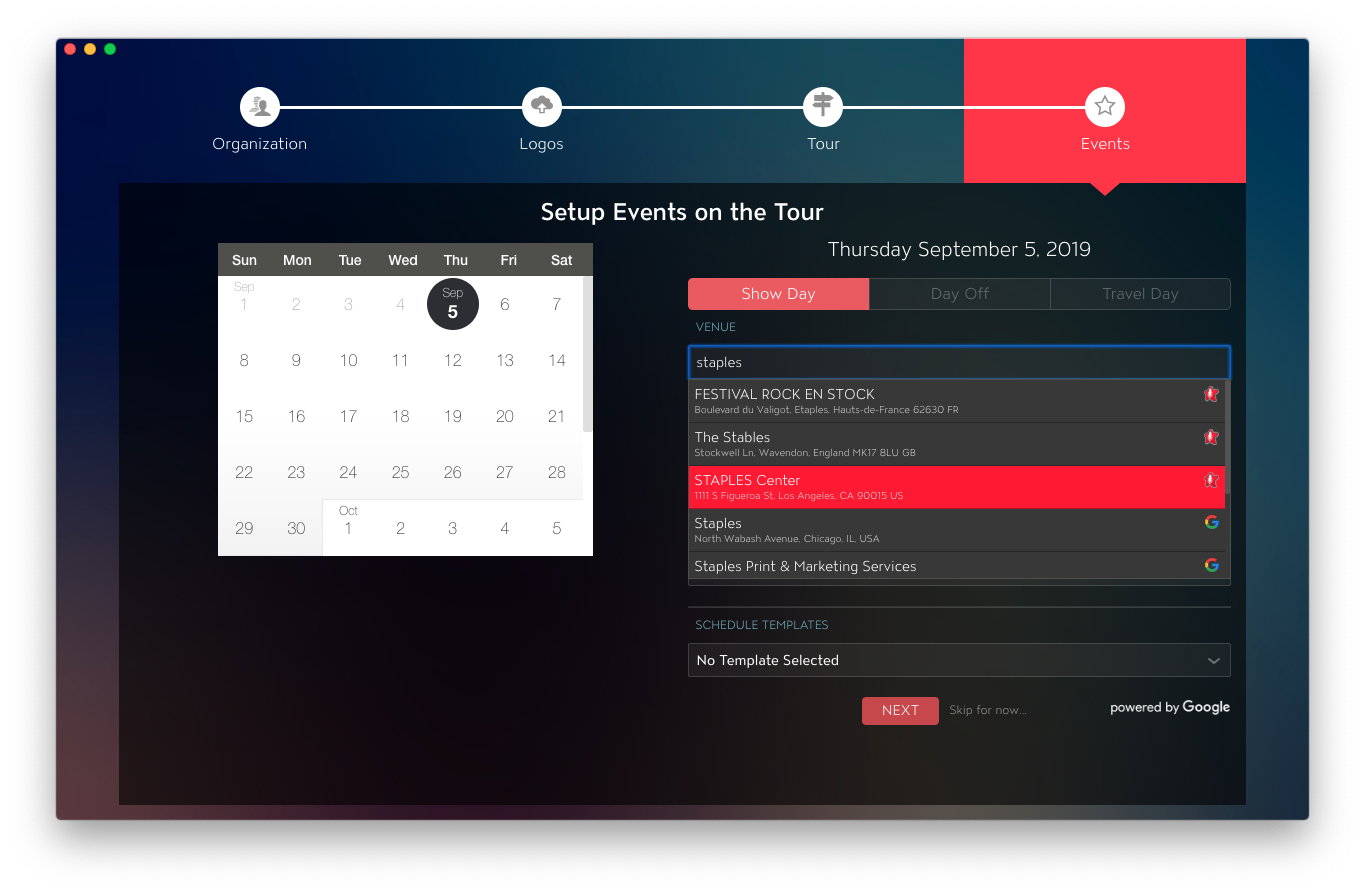 Day Off
Selecting Day Off will allow you to enter basic City/ST/Postal Code/Country info. This will also automatically look up your Tour Date's Time Zone, so make sure to fill it in.
Travel Day
Selecting Travel Day will allow you to enter basic City/ST/Postal Code/Country info. This will also automatically look up your Tour Date's Time Zone, so make sure to fill it in! If your Travel Day is across multiple Time Zones, it's up to you which location you choose to be that Tour Date's primary Time Zone, and you can always set different Time Zones for your Travel Items' Start and End times.
All Day Types will also allow you to apply a Schedule Template during Setup, which will automatically fill out a Tour Date with a predetermined Schedule. If you don't have any Schedule Templates created yet, you can always add Schedule Templates to each Tour Date after they're made. Click here for information on creating, managing, and using Schedule Templates.
After you select a Day Type and add info for that Tour Date, click the NEXT button to go to the next date. Once you get to the end of your range of Tour Dates, you'll see a FINISH button, which you can click to see your new Tour, ready to edit with further details!