Master Tour 2 is no longer supported. Check out this article for info on upgrading to Master Tour 3!
You know the routine - a band member tells you they want two of their second cousin's former roommates on the guest list, you say "Billie come on, can't these guys pay?" and Billie says "No, we gotta get them on the guest list." So you tell Billie to send you their names and you send them a confirmation email when they're on the guest list.
Well now, all that can be handled by Master Tour. Billie can just send you the guest list request from the Master Tour Mobile app, and when you approve the guest listing either on Mobile or the desktop app, Billie will automatically get sent an email confirming that the guest listing has been approved.
Part 1: Turning on Automated Guest List Approval Emails
Required: Professional level subscription and Manager or Admin permissions
To turn on your automated guest list approval emails for an Artist, just type Cmd-U (or Ctrl-U if you're on a PC) to get to the Artist Overview section, then click on the Guest List Preferences tab. There, you'll see a dropdown saying "On Guest Approval, send the Requestor a confirmation email?" Just select "Yes," then click "OK" to confirm that you will have to sync for this change to take effect.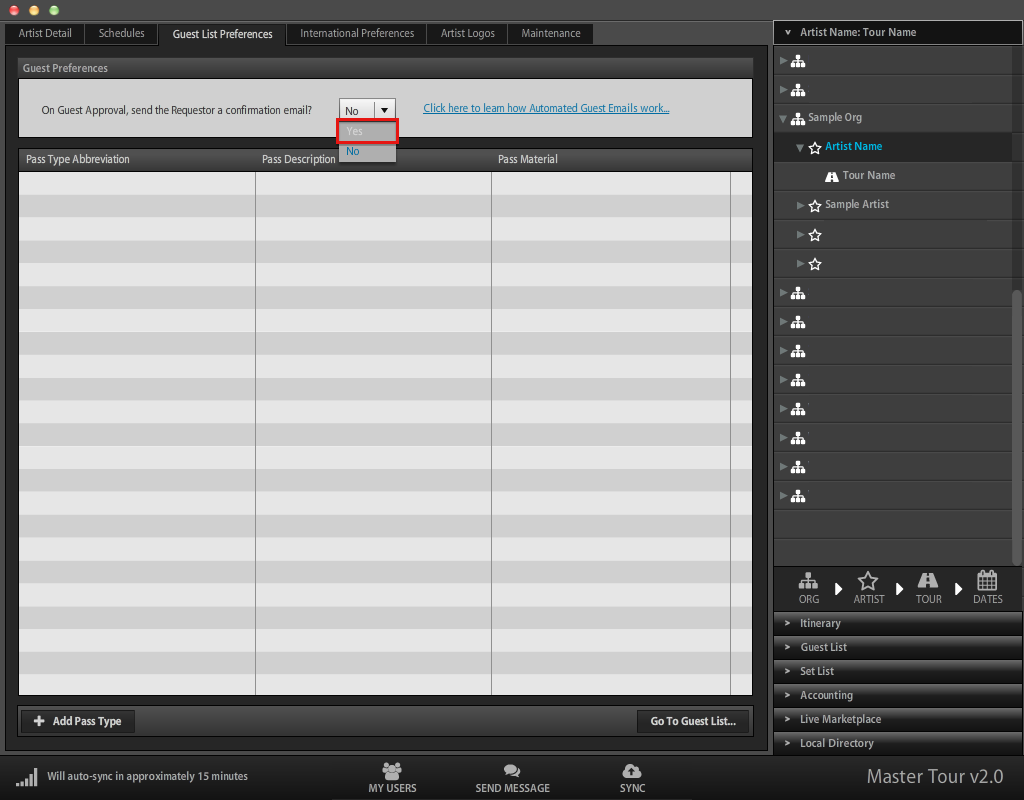 After clicking OK on the Guest Preferences Changed popup, you'll need to click the Sync button in order for the change to go live. As soon as you sync, you'll be able to use automated Guest List Approval emails!
Note: any already existing Approved Guest Listings will NOT be sent emails when you turn on Automated Guest List Emails and sync. After you turn on Automated Guest List Emails and sync, though, any Guest Listings that are changed from New, Pending or Declined to Approved will be sent emails. 
Part 2: Approving Guest Listings
Required: Manager level permissions
Any user with Manager-level permissions can approve Guest Listings, from the mobile app, my.eventric.com or from the desktop application. Simply change the Status from New or Pending to Approved, and click Done on the mobile app or Sync on the desktop app to submit your changes.
After syncing on the desktop or submitting your changes on mobile, an email will be sent to the Contact Email listed in the Guest Listing (you can view a Guest Listing's details by clicking on the 3 grey bars to the left of their name in the desktop application):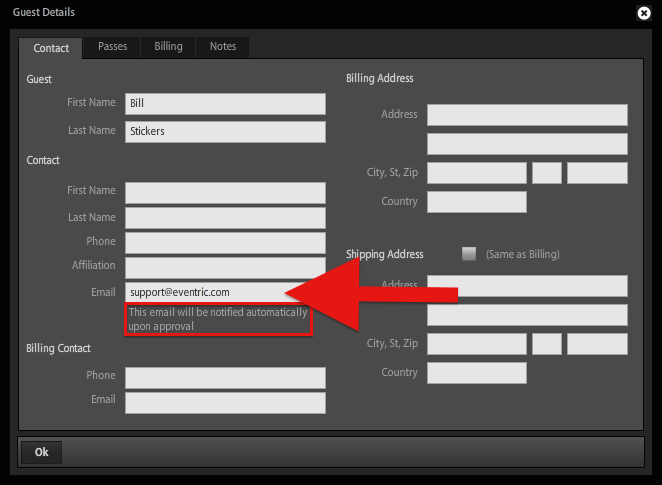 Any Notes entered in the Notes tab of a Guest Listing (or Notes section of a Guest Listing on the mobile app, if you're adding/approving Guest Listings from mobile) will be included in the automated email as Instructions: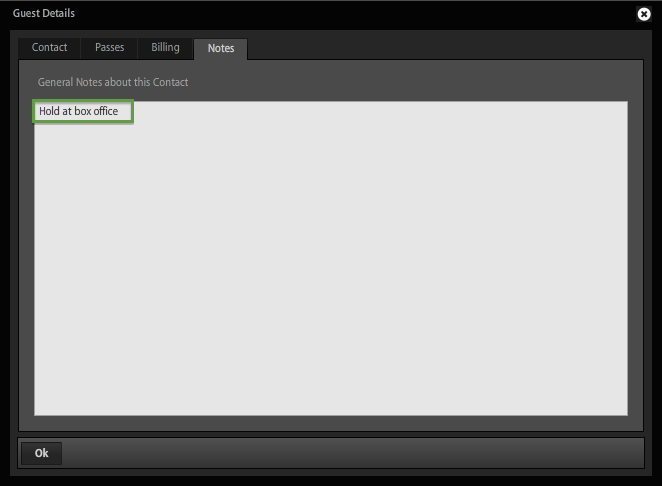 Once Approved and synced in, an email will be sent to the Contact Email of the Guest Listing within minutes: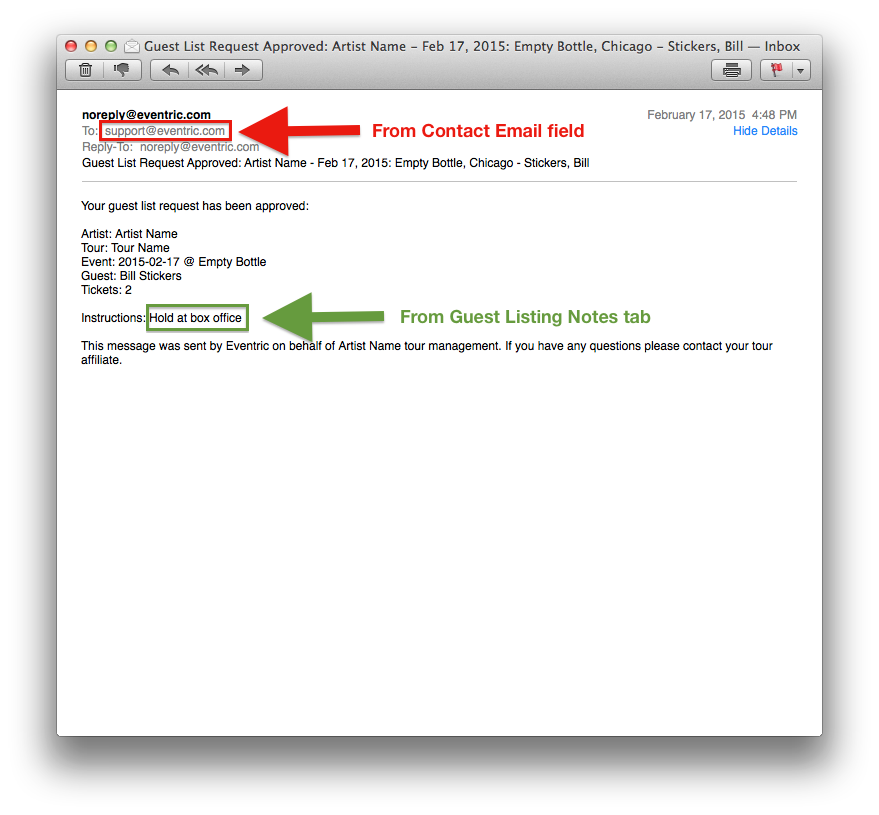 Part 3: Troubleshooting
Some common issues that can arise, and their solutions:
1. A valid email address was not entered in the Contact Email section or Requestor/Requested By section.
If a valid email address was not entered when you approved a guest listing, then a Note will be added to the Guest Listing saying why the email was not able to be sent. This will be changed in the next version or two to be easier to view at-a-glance on desktop and mobile, but for now you'll need to check the Notes section of a Guest Listing if you're worried the email might have bounced back or not been sent.
2. I need to resend an email
To resend an email, you can simply change a Guest Listing back to a New or Pending status, submit or sync your change, then change it to an Approved status and submit or sync it again. This will prompt our system to send the automated email to the listed Contact Email for that Guest Listing again.
3. Guest List Requests from Androids show the email address in the Requestor field
This is due to the current structure of the Android app and will be fixed in the next Android version. Until then, our system checks the Contact Email field for a valid email address, then the Requestor field. If there isn't a valid email in the Contact Email, but is a valid email in the Requestor field, the automated Guest List Approval email will be sent to the email address in the Requestor field.